HP Jet Intelligence – a real game changer?
HP announced this week its new Jet Intelligence programme, featuring radically new toner technology, with the headline claim of delivering more Pages, Performance and Productivity. The new technology will be launched initially on desktop and small workgroup devices, but indications are that it will be progressively extended further up the product range.
At the heart of Jet Intelligence is the ColorSphere 3 Toner System, which is the result of a five year investment programme by HP, working in collaboration with Canon. The new toner has a different, 3-layered particle structure, with a hard external shell and a soft core, with a significantly lower melting point than 'traditional' toner, which has a mono-sphere particle structure.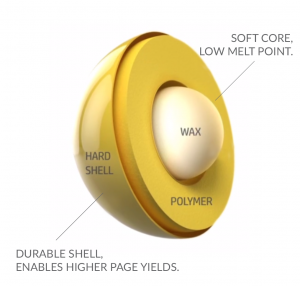 This structure brings significant advantages compared with 'traditional' toner.
Firstly, the hard shell means that the toner particles do not degrade through the life of a cartridge, meaning that all the toner in the cartridge can be used, whereas previously as much as 15% could become degraded and unusable.
Secondly, the lower melting point results in dramatically lower power consumption – reduced by over 50%.
Thirdly, the way the toner is laid down allows the printer to be much smaller and faster than previous equivalent models – with footprint reduced by 40%, first page out time down to 7 seconds, and duplex printing with the same productivity as simplex.
Read the next article on Monday morning: intelligence is everywhere.