Office channel & MPS: impact on revenue and margins
Read the previous article, a fundamental shift, here.
Question: What is the likely impact on my revenues and margins?
Answer: It is not just that the transactional print revenues will decline, the other important point is that the mix of revenue in an MPS contract is different, with services and solutions growing fastest, and also attracting the highest margins.
Over the past 5 years, IDeAs estimates that MPS services and solutions have almost doubled as a share of the growing MPS revenue, and now account for over 20% of the total.
Think of it this way. The sales pitch for an MPS contract is about the customer achieving savings, typically in the range of 25-30%, by rationalising and managing the print fleet more efficiently. The savings quoted refer to hard costs (hardware, consumables and break-fix). If large numbers of customers are reducing their expenditures by 25-30%, it follows that the market must decline by a commensurate amount.
Except that MPS providers sell a range of solutions and services, to manage the fleet, and also to move up the value chain, e.g. consultancy, print management, content and workflow management, and the software tools to enable these services. In this way, they can more than compensate for the decline in sales of hardware and consumables. If OP dealers do not find a way to be part of this, they face an ongoing squeeze in revenues and margins.
Q: Isn't MPS just for large organisations? Do I really need MPS for an SME customer base?
A: It is certainly true that when MPS first got going, a decade or more ago, it was mainly for large corporate customers, and it stayed more or less that way for several years. However, within the last 2-3 years, there has been a growing mass of evidence of SMEs also becoming aware of, and understanding MPS. The following chart, showing research by Quocirca, illustrates the point.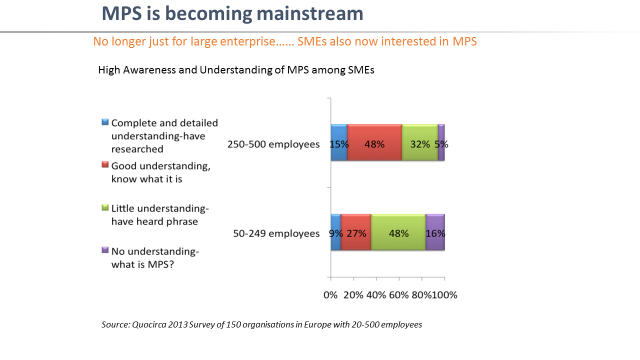 Read more on the next article and hear why the moment has come to act.