Let's demystify Managed Print Services ! (2/3)
However, changes in technology and work processes in recent years, particularly the merging of printing and copying, the explosion of digital content, the wide spread availability of smartphones and mobility in general, the emergence of tablets in a work environment, have created new streams of documents that have gone out of control. There are opportunities to streamline the way documents are managed, and by so doing, reduce costs, reduce risk and improve employee productivity.
MPS is simply a process to get control of and manage the total document output in an organization.  It typically starts with gaining visibility of the current state and costs, and then proposes an optimization to reduce costs by rationalizing the number and type of devices, and improve productivity by sheer simplification of the infrastructure and providing better user support.
In most cases organizations outsource this to an external print expert, but there are a few examples of companies who manage it themselves in house.  Once the basic print optimization has been achieved, there are additional steps that can be taken to change habits. It can be done by introducing both a formal print policy in the company supported by tools, such as follow-me printing, which make printing more convenient for users, improves document confidentiality and reduces the volume of wasted prints.
The result in the European organizations mentioned above was an average 34% reduction in costs, and a reduction of nearly 70% in the number of printers deployed. The benefits go beyond just the savings in hard costs. The streamlining and simplification of the print infrastructure usually improves reliability and device uptime, so providing better user service and productivity.
So it is not surprising that MPS is growing very rapidly, and is well on the way to becoming the standard way of purchasing office print.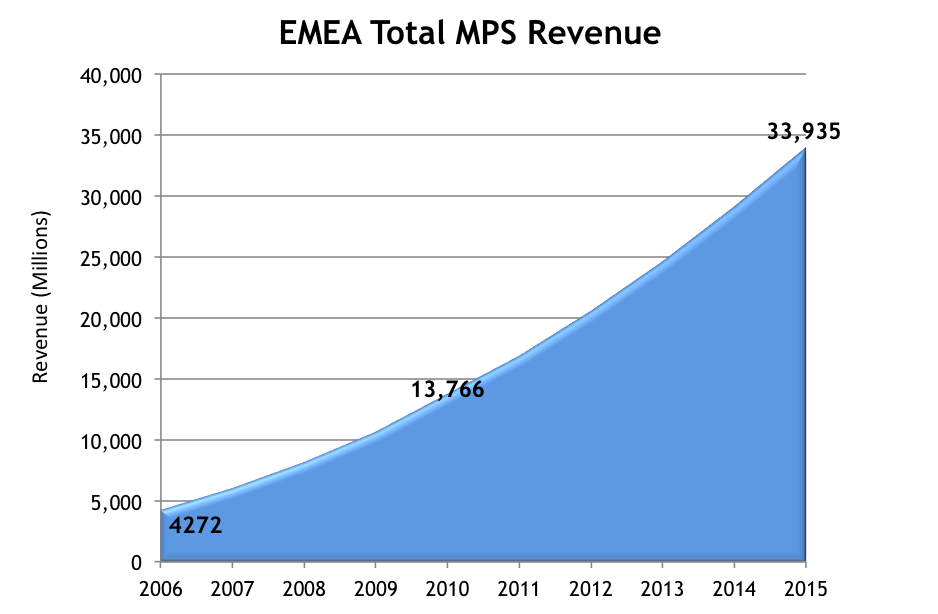 Total Spending on MPS in EMEA US$ Million. Source: 2011 Photizo Group MPS Market Forecast Study
There is a further benefit of MPS, to IT departments, who usually support printers. Independent research has shown that between 10% and 20% of calls to IT help-desks are related to printing. Under an MPS contract these calls are reduced in number, and are handled by the provider, freeing up on average 10% of IT staff time, to focus on more important tasks.