HP Summit in Boston : overview
HP Summit Boston
In 2012, Meg Whitman showed a 5 year plan, which should bring HP as a company back into the driver's seat as an industry leading company. Despite larger and smaller reorganizations, one department has always been kept intact and has hardly been involved in the different reorganisations. This is the development / R&D department, a strategic decision, which now seems to pay off. The innovation of HP together with the existence of their customers and partner base, their powerful assets and the financial foundation are what HP now position as their key strengths in the market.
One HP seems to be the approach towards the market. Although still feeling their way into this concept, many initiatives have started and more are set to come in the near future.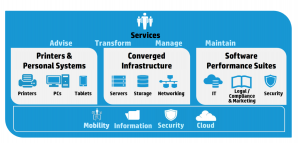 Good examples are the newly offered services for their new department "Printing and Personal" systems, but HP is also launching a new cloud environment that should service their entire organization.
The World of MPS
The question is whether all these changes and the focus on innovation have an impact on our world of MPS. The answer, according to HP, is YES.
HP has high expectations of their newly launched Officejet Pro X series. "Double the speed, half the costs".  Some people are still sceptical about this approach, but the figures show that HP is very successful with it. And HP is already working on the next series, which are even faster than the current ones.
The trend towards Bring Your Own Device (BYOD), the increase of the mobile workforce have their impact on the offering of MPS for HP. Mobile Print was one of the hot topics during the Summit. Only a fraction of the people have started using it and HP has high hopes that this will increase over the next few months. The figures around mobile print however were very inconsistent across the different presentations and even in the individual sessions, we saw wide variances in the expectations. A big surprise for me was when HP claimed that the actual volume level of mobile printing is, in their opinion, still increasing, while multiple independent studies and many vendors have indicated otherwise.
HP is clear that their key focus is now the channel approach reaching from smaller SMB clients to the smaller enterprise partners. And HP announced that they will now also enter into the world of offering service engineers in the field.

An interesting and important question is whether this service infrastructure will be used by HP to help their partners support mixed fleets, including third party as well as HP devices – as some of their competitors do. When questioned on this, HP indicated that they would be supporting third party devices – but  when and how was less clear.