HP Power of Print Analyst Event in Palo Alto / PART 3 – Ready for the 4th industrial revolution
We have focused in this article on Office Printing, as that is our main area of interest, and here HP is managing to achieve significant growth, despite the overall market maturity.
In Graphics and Professional Printing, in contrast, there is significant market growth, as print volumes and revenues continue to shift from analogue to digital.
HP has a broad offering of technologies and innovations, which are driving strong results in this sector. Personalised packaging for consumer goods is one exciting growth area, highlighted in a guest appearance by Carl Joachim, Co-Founder and Chief Marketing Officer of ePac, an all-digital manufacturer of flexible packaging, which has taken off spectacularly since start-up in 2016.
For the future, even more spectacular growth is likely to come from HP's new 3D Printing business. HP provided an insight into their strategy and technology, leveraging their 2D Page-Wide technology to provide a more flexible and cost-efficient process in their Jet Fusion 3D Print range. This started with plastic products, but is now extending into metals.
The big difference between HP and its competitors in this arena is its focus on Production, where the real volume potential lies, rather than on the more niche areas of design and prototyping.
The Jet Fusion technology provides the scale and cost efficiency to tackle Production, and also gives HP a big lead over competition, who will face significant barriers in catching up. HP identifies 3D Printing as the basis for the 4th Industrial Revolution – and they may well be right.
As exciting as much of what we saw in Palo Alto was, for the most part, especially in Office Printing, it represented development of familiar concepts, which HP has presented over the last 2-3 years.
In some respects, it is perhaps this continuity which is most impressive, especially when contrasted with the frequent false starts, failed initiatives and changes of direction which characterised HP in the past. The jury remains out on how far HP will succeed with this direction.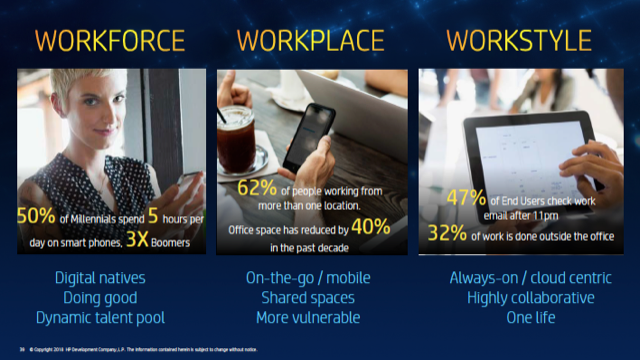 Much will depend on continued excellence of execution, but also on securing channel co-operation, particularly in the tough challenge of growing A3 share. HP has made good progress, but the road ahead will not be easy, as competition responds, and ongoing channel consolidation makes further share gains more difficult.
HP has shown that it is willing to buy market share, for example with the acquisition of Apogee, and there were strong hints that there may be more strategic purchases in the future.
The overall impression created in Palo Alto was of an HP juggernaut making relentless progress towards domination in its maturing core markets The key questions are whether any of the major competitors can stand up and confront HP's progress, but also whether HP itself may have some interesting new tricks up its sleeve in existing core markets, and to what extent it can realise the enormous growth potential of the new market areas.