Canon Expo in Paris: a 5-year strategy and beyond [2/2]
1st part available here.
Going further: a 5-year strategy and beyond
The other goal of Mr Mitarai is to globalise innovation. His view is that the product creation process at Canon is too Japanese centric and has accordingly reorganised R&D and product development in the three main geographies. The USA should take care of bio medical, Europe will be in charge of printing and video surveillance and Japan will retain photography
Before stepping down in one year, Fujio Mitarai would like to leave a group able to confront the challenges of the next 5 years, and beyond.
Nearer to our interests there were some spectacular production devices where quality and speed are stunning but also the possibility to modify and rearrange images in a simple fashion.
Yes this is a printer!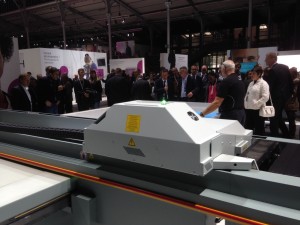 A lot of effort was also put into "real life" capabilities, with a fully equipped advertising and communications agency. This was showing how the workflows were well mastered by Canon through their portfolio of software and services. The devices do render brilliantly but are not anymore the only place where value is generated today.
Another booth was focussed on Consulting. If you remember the former Canon Expo (2010), Canon had just announced a strategic partnership with Accenture, to extend its capability into broader IT and business process outsourcing. Accenture was to provide the access to the top, the methodologies in order to learn how to get the CxO's attention, by addressing the right subjects with the right methodologies.
This has now a 5-year track record, and Canon provides consultancy to large Corporations in a set of vertical markets where it has built experience. A newer aspect of it is that it does not only address the direct sales organisation of Canon which is focussed on very large clients, but also supports the Channel group in cooperation with dealers that do not have the skill set to perform such assessments.
This is the objective of the Canon Expo. Make you think of times ahead, and they have obviously plenty to tell. The next edition will be in 2020, but it was striking to see between 2010 and 2015 how time has accelerated, and how client's real life usage and software enabling such usage has taken precedence.